Dr. Gennady Kolodenker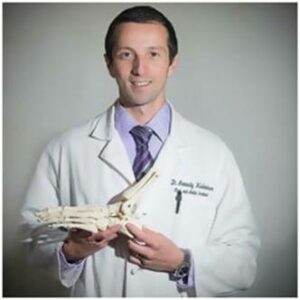 Dr. Gennady Kolodenker, DPM is a Board Certified, American Board of Podiatric Medicine, Sports Medicine and Surgery Fellowship Trained Podiatrist in Orange County. He specializes in complex and simple adult and pediatric foot and ankle surgery. Procedures range from laser treatment for nail fungus to joint replacement surgery.
In addition, to practicing in private practice Dr. Kolodenker is also a Clinical Assistant Professor at Western University of Health Sciences. He is also a Qualified Medical Evaluator (QME).
He completed a three-year surgical foot and ankle podiatry residency at University Hospital in Newark, NJ (UMDNJ). The UMDNJ residency provided Dr. Kolodenker with vast experiences in trauma, limb preservation, reconstructive surgery, and cosmetic foot and ankle surgery.
In 2003 Dr. Kolodenker graduated cum laude from Seton Hall University with a Bachelor of Science degree in Biology.
He then continued his education with a four-year medical school training at Dr. William M. Scholl College of Podiatric Medicine.After graduating with a Podiatric Medicine degree, Dr. Kolodenker continued to residency. During residency, there was a vast experience in trauma and limb preservation. Working in an urban area like Newark, NJ there was a tremendous need to serve the underprivileged population. During his final year, he was named Chief Resident.
Dr. Gennady Kolodenker is also fluent in Russian.